The Mount Wilson Trail Race is sponsored by the City of Sierra Madre Community Services Department.
City of Sierra Madre – Community Services Department Office
222 W. Sierra Madre Blvd. (located in the Hart Park House in Memorial Park)
Sierra Madre, CA 91024
Phone: 626-355-5278
Hours: Monday through Thursday from 7:30 am – 5:30 pm
https://www.mountwilsontrailrace.com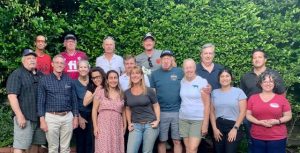 2023 Mount Wilson Trail Race Committee
Pete Siberell, MWTR Director
Denny Barry, Sound/Music
Simon Cooper, Training Program
Matt Gallagher, Boy Scouts
Robert Gjerde, Website & Sierra Madre CERT
Allen Graves, Race Announcer
Greg Harman, Sound/Music
Heidi Hartman, Merchandise & Sierra Madre Civic Club
Hourig Kalajian, Pre-Race Pasta Dinner/Pizza Sales
Linda Knowles, Race Packet Pickup
Monte Lewis, Trail Maintenance
Russell Mix, Trail Maintenance
Jim Moran, Logistics
Monya Moyer, Volunteer
Ramon Navarro, Volunteer
Bob Nydam, Logistics
Joe Pacilio, Sponsorships
David Pejsa, Kids Fun Run/Bike Rails
Kelly Rogers, RT Rogers Brewing Company & Beer Garden
Peter Shair, Sound/Music
Cheryl Smith, Sierra Madre Search and Rescue
Bob Spears, Trail Maintenance Crew Leader
Sue Spears, Fletcher Trail Maintenance Fund & Race Day Booth Expo
City of Sierra Madre Community Services Department Staff – Lawren Heinz, Cristina Pardo, & Rebecca Barron-Silva-Barron
Pete Siberell, MWTR Chair, has been a resident of Sierra Madre for some20 years, ever since he moved with his wife Marianne to take a job in management at Santa Anita Park.  Ever since I moved to this wonderful village, I have run and/or organized the Mt. Wilson Trail Race every year. It has been a labor of love for me, allowing me to combine my passions for running/racing and putting together events that bring pleasure to people. The trail is a place my wife, my boys, and my dogs enjoy running and hiking. When we put together a "trail work day" to get the trail ready for the race, it is also a place to meet wonderful people with special stories about their own lives,  My race times may get slower, but my love for the Mt. Wilson Trail Race grows every year. What is better than seeing people achieving their athletic potential and sharing their experiences with each other and their families, in such a unique community as Sierra Madre.
Bob Spears, Trail Maintenance & Training – As an EMT on the Sierra Madre Fire Department in the 70's, I worked the Trail Race in Kersting Court by providing first aid to the runners with blisters. I thought they were all nuts. In the early 80's I began to run the LA Marathon with Students Run LA and decided to try the Trail Race. It was harder than the marathon, but I was hooked. The first time I finished the trail race all the runners got a tongue depressor with a number on it that was later matched with your time. While I continue to run the race, I am very slow, but still love the course. Since I have retired from work, I now have time to do trail maintenance and contribute what I can to the success of a wonderful community tradition.
Heidi Hartman, Merchandise & Civic Club, is a mother of three, a gramma of two, wife, friend, special education teacher and part time professor. Being a volunteer makes my life worthwhile.  It began with The Sierra Madre Civic Club and The Spero Foundation. Through Civic Club and Spero, my involvement with the Mount Wilson Trail began and continues to grow.  Not an accomplished runner, in fact I consider myself a "jwalker", enjoying the benefits of being outdoors with friends. Volunteering fills my heart. Community volunteerism is giving back and supporting in the city I live.  Since I have been a committee member, I see it's more than strength and endurance. It is bravery, commitment, honor, pride, and love that I see running through the finish line. I love that part the most. The faces that come through the line, make me proud to be involved.
Joe Pacilio, Sponsorships –  After suffering a Heart Attack in 2002, I started running, first around the block. Then up to 3 miles a day around my neighborhood. In 2007 I was reading the local paper and read about the Mount Wilson Trail Race, and I thought "This is crazy, I could never do that". Now 2008 read in the paper about Mount Wilson Trail Race Training. Let's give it a try, so I started the training, ran the race, and fell in love!  I have run the Mount Wilson Trail Race every year since .  In 2013 I joined the Mount Wilson Trail Race Committee to help with sponsorships and trail maintenance.  Now a proud sponsor and even more fulfilling as a trail maintenance volunteer, I could not be happier to be a member of this committee.
Ramon Navarro, Java Madre – Is a Sierra Madre resident and local business owner. Although he has run the race several times, he doesn't consider himself a runner. Joining the committee for the 2019 race, his goal is to make race day special for runners, spectators, and volunteers. "I love race day.  There' is such a positive energy around this town that makes me so happy. It reminds me of when I was young, getting outside and playing with all the other kids in the neighborhood. This is a labor of love and I'm so pleased to be on the committee with such a kind and talented group of people."
Monte Lewis, Trail Maintenance –  My wife Ann and I moved into the SGV in 2004 when our jobs and her horses changed locations all at once. One look at the views from the Foothill Communities confirmed where we wanted to live. We eventually settled into Bradbury. As we've become more and more involved in various groups within our community, it has confirmed what a tremendous place this is and how great the people are.  Outside of work, most of my time is dedicated to trail running, Crossfit, and spending time with Ann plus the occasional home improvement project wedged into the schedule.  As for my role on the committee, I am primarily involved supporting trail maintenance efforts, helping to move materials up the mountain – a role the Bastards lead the way in – and working on the trail itself to ensure that not only do we have a safe race, but also that generations to come can enjoy the trail.